A Potted Chronology of Llamas in the UK
The intention here is to make a listing of known facts to help establish a chronology of llamas in the UK. To date there is no detailed history of llamas in the UK although rumours abound regarding the past. This is the start of building an evidence base from which a history can be written. The first 3 entries are extracted from Helen Cowie's fabulousbook on Llamas which tells us more about alpacas than llamas in the UK. Individuals are encouraged to contribute to this listing stating their source using the submission form below.
1805
21 March - Llama exhibited at Brooke's Menagerie in London. Morning Chronicle.
1814
30 April - Llamas shown at Norwich and Yarmouth Fairs Ipswich Journal.
Poster for Wombwell's Touring Menagarie, undated but thought, by virtue of a written note on it, to be 22 August 1825. Description of Elepho Camelus ( lama?)
Poster for Wombwell's Touring Menagarie, 20 August 1828
1828
The Llama Hut at London Zoowas one of the earliest buildings on-site, it was designed by Decimus Burton. It was the first animal house to be built from brick and was completed by 16 May 1828. A clocktower was added in 1829. The building still exists today as a First Aid centre.
1829
A white and a brown llama described at London Zoo (opened in 1828) in their Guide to the Gardens of the Zoological Society pp. 8-9. One described as morose.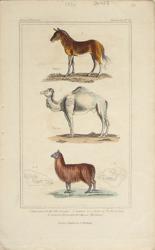 Camelids. Equus Quaccha, Dromedary and Lama.
by Latreille from Cuvier; Animal Kingdom
1834
In 1835, a publication called the "List of the animals in the Liverpool Zoological Gardens" shows us that Charles Tayleur donated a Llama that he kept at Parkfield to the Zoo,

1835
27 November - Mention of llama from Liverpool Zoological gardens performing in the pantomime Bluebeard Liverpool Mercury
1836 - Goldsmith in his famous History of Man and Quadriceps (1838, p. 326) claims that George III had several llamas at Windsor Park but not were long lived. Perhaps the answer lies in what he writes:
from The History of Progress in Great Britain, Volume 1
1844
Lithograph of llamas at Knowsley Hall drawn from life December 1844 by B. Waterhouse Hawkins
Royal Agricultural Society held a meeting at Liverpool where alpacas and llamas? were exhibited at Lord Derby's estate in Knowsley.
1846
6 June - Much dissatisfaction having arisen among the artizens engaged in the production of the Llama Cloth in the West of England, by reason of a rumour that it was the intention of the Messrs. Nicoll, of Regent-street, to remove such manufacture nearer to the metropolis, those gentlemen have issued a circular denying such to be their purpose, and which has allayed the fears of a….
John Bull (London, England), Saturday, June 06, 1846; pg. 350; Issue 1,330.
25 July - Some notion of the exquisite texture obtained by the aid of the Llama wool may be gained from the fact that, without destroying the waterproof character of the cloth, the Messrs. Nicoll, of Regent-street, have succeeded in making their registered Paletot, for the present hot weather, of a lightness almost astonishing. John Bull (London, England), Saturday, July 25, 1846
1851
27 September - Mention of 21 alpacas/llamas sold on death of the Earl of Derby from his estate at Knowsley. Illustrated London News. Said to fetch a fair price between 33 and 65 £. Morning Post 13 October, 1851. Said to be unrivalled collection in Europe. Morning Post 26/12/1851
1 Llama Sold for £28, Mr Atkins, proprietor of Liverpool Zoo.

1 Llama (old), past its best days Sold for £26, Jamrach, a German from Hamburg

1 Llama, female Sold for £33, Herring, of London, for Sir W. Fielding, Fenniscaule, Lancashire

1 Llama, female Sold for £30, Atkins, for out of the country

1 Llama, female (fawn) Sold for £28, Vekeman, Antwerp Zoological Society
Various mentions of llamas appearing at travelling shows up and down the country
1852
19th June - Sir Henry William Fielding, Fenniscoul, near Blackburn, has 4 Llamas, a young one, a few days old, from the one bought at Knowsley.
1855
26 May - Mention of llamas at Belle Vue Gardens Manchester. Manchester Courier
1857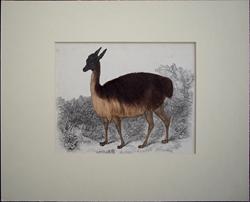 Camelids. Llama History of the Earth and Animated Nature. Oliver Goldsmith 1857
1857
Prices for wool as follows:
Vicuna, 7s to 7s 7d
Alpaca, 3s
Guanaco, 2s to 2s 6d
Aviru, 2s 6d to 3s
Llama 1s to 1s 4d
Goat – Cashmere, 2s to 2s 6d
Camel, 10d to 12d
Bear, 6d to 7d
(Alpaca, The Original Peruvian Sheep, Before the Spaniards Invaded South America, for Naturalisation in other Countries. Recommended through the Natural History Society of Liverpool in 1839. By William Danson of 6, Shaw street, Liverpool. Printed by M. Rourke, 3, South John Street, Liverpool, 1852 supplied by Helen Cowie)




1858
20 March - Auction of llamas transported over 4,000 miles overland from Peru to New York where purchased by British citizen Mr Benjamin Whitehead Gee of Acton, London. Ledger's The Alpaca: Its Introduction Into Australia
29 May - 39 llamas arrive in Glasgow? from New York imported by Mr B. W. Gee Illustrated London News
From London Illustrated News 10 July 1858
10 June - Imported llamas exhibited at Glasgow Cattle Market Inverness Courier/Durham County Advertiser 9/7/1858

19 June - Imported llamas exhibited at Birmingham on occasion of Queen Victoria's visit. Birmingham Journal
1862
11 December - Stuffed female llama advertised for sale in The Scotsman
1864
28 May - Llamas exported from England to Ireland County of Wexford Advertiser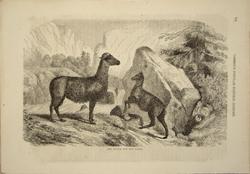 Camelids. Alpaca & the Llama, Cassell s Popular Natural History, 1865
1885
20 May -Evidence of llamas in Dublin Freeman's Journal and Daily Commercial Advertiser (Dublin, Ireland),
1899
8 April - Llamas described by the Illustrated London News as very unpleasant animals.
20 April - Mention of llamas at London Zoo. The Daily Mail
1890
27 June - Mention of Crystal Palace menagerie being sold the sale of which included a llama. The Daily Mail
1902
Naval's Pet's Peculiarities - Western Times , Friday, October 3, 1902, Issue 16385, p.3.
1906

30 January - Birth of llama at Belle Vue Amusement Park, Manchester. Manchester Guardian
1907
7 August - Mention of llamas being ridden at Mr Wingfield's Menagerie at Ampthill, Bedfordshire The Bystander
For video footage also see: http://www.eafa.org.uk/catalogue/1746 and https://player.bfi.org.uk/free/film/watch-tame-animals-at-work-1909-online
1909
7 April - Punch proposes using llamas for hunting
1912
12 March - article described llamas as having all the bad traits of camels - bad tempers, stupidity, obstinate refusal to work and having an objectionable habit of spitting. Manchester Guardian.
1 April, Mention of llama pulling cart containing children at London Zoo. The Times
1920
17 May film of llama rides at Folkestone
1924
9 April, Mention of Bobbing the llama. Manchester Guardian
13 September - Birth of a llama at London Zoo reported in The Times newspaper.
1926
30 January - Mention of llama farm in Bedfordshire selling llamas to private estates. Manchester Guardian. 11 according to Liverpool Echo 21 Jan
1929
6 July - Argentine llamas arrive at Edinburgh Zoo The Scotsman
1930
3 May - 12 llamas reported to have landed at the Port of Liverpool from Buenos Aires, the property of Mr H. E. Rogers of Mossley Hill, Liverpool. Manchester Guardian. Travelled on steam ship Bronte, served 28 days quarantine before being distributed to various zoos in the UK The Scotsman 25.5.1930
8 November - Baby llama born at Edinburgh Zoo The Scotsman
1931
3 January - 2 llamas at private zoo at Ampthill, Beds described in Western Mail
9 February mention of llamas private zoo near Cobham, Surrey British Movietone News
1932
21 April - Film of llama at Chessington Zoo
30 July - Birth of llama at London Zoo announced by the Illustrated London News,
1933
Evidence of llamas at Liverpool Zoo, imported by Mr Herbert Rogers The Scotsman
16 September - Gentleman found guilty of being drunk in charge of a llama in Brixton high street reported in The Times newspaper
1935
17 October - Birth of llama at London Zoo announced in the Daily Telegraph
1937
2 March - Baby llama born at Edinburgh Zoo The Scotsman
1938
18 April - llama in film of animals at Whipsnade Zoo, British Movietone News
1939
Princesses Elizabeth and Margaret ride llama cart at London Zoo. Photo - Getty collection
17 July - Sudden death of llama at London Zoo - suspicion of posining Edinburgh Evening News
Reco's Circus 1940s (courtesy of: http://www.mountlehmanllamas.com/trivia78.html)
1941
30 May - Llama born at Dudley Zoo Evening Despatch
1942
llama mentioned at Chessington Circus (Picture Post)
1943
20 August - Llama born at Wellingborough Zoo Northampton Mercury
1949
26 November - Llamas said to be performing in the Ray Mammoth Circus
1953
Billy the llama mentioned at circus performing in Oxford (Picture Post)
1956
14 July, Picture Post
1957
10 June - llamas at Battersea Children's Zoo - Film reel
17 July - Birth of llama at Whipsnade Zoo announced in Daily Telegraph.
1963
19 December - Birth of llama at Bristol Zoo announced in the Daily Telegraph.
1964
1 April - Llama and trap at Whipsnade Zoo Coventry Evening News
29 April - Birth of llama at London Zoo to parents Kay and Kim, announced in the Daily Telegraph.
Mr Derek Wallis (Cheshire) buys his first lamas from Haigh Hall (Wigan) (Personal communication)
1966
3 October - Llama born at Stanway Hall Zoo, Colchester Coventry Evening Telegraph
1967
18 August - Llama born at Dudley Zoo, 3 more expected Birmingham Daily Post
1970
30 July -Lama born at Twycross Zoo Coventry Evening Standard
1976
19 July - Llama born at Aberdeen Zoo Aberdeen Press and Journal
1978
Ruth Ruck's Along Came a Llama published (London: Faber and Faber).
13 July - Llamas advertised for hire The Stage
16 August - Elite Llamas Ltd. incorporated (Paul Rose) (Companies House)
1980
A solicitor who bought one of the 7 surplus to requirement being auctioned by Mary Chipperfields Circus in Over Wallop, near Andover in 1980 to train to spit at disliked neighbours over the garden fence. (The Guardian 20 Nov 1980: 6)
1982
Formation of British Camelid Association.
1988
British Camelids Association founded (incorporated 20th May), Representing the llama fraternity were Pamela Walker, Derek Williams and Ann and Peter Knowles-Brown alongside Adele Bentley and Jenny Cobb from the alpaca community (Companies House)
The Times ( October 13, p.7) mentions the auction of Pamela Walker's Maplehurst Llamas at Stoneleigh 27 lots grossing £87,885.
Peter Bourne (Bremia Llamas) acquires 1st llamas (Personal communication)
1989
12th June - 1st Llama Khama, Bildeston, Suffolk reported in The Times newspaper. Aimed to promote awareness and interest in the animal but turned out a bit of a disaster in that the llamas were uncooperative. Interview with Norma Chandler.
14 November - Mention of Llama Khama and suggests llamas can hit you with spit at about 4 feet with a foul smelling spray. The Sunday Observer
The Times , Monday, June 12, 1989, Issue 63418, p.3 .
12 October - 1st European auctionsale of llamas - Stoneleigh
28 November -Cumbrian farmer was paid £5K compensation when one of his animals was killed by a low flying RAF jet! (The Daily Telegraph, November 29, 1989, Issue 41814, p.1).
1990
Evidence of llamas at Windsor Safari Park.
23 June - Mention of llama breeder Paul Rose and of their presence at the Royal Show, Stoneleigh. The Times Newspaper.
1991
22 August - Kilverstone Wildlife Park closed including sale of llamas. Eastern Daily Press
15 September - 1st time llamas entered in Henley and District Agricultural show (described as bad tempered and capable of killing human beings) the Daily Telegraph.
1992
13 April - Report on Paul Rose's llama farm in Gloucestershire. Said to have 60 llamas, 30 from zoos of Eastern Europe, Daily Telegraph.
12 November - Mention of llamas in Northumberland. The Times Newspaper.
19 August Experiments started at Aberystwyth and Aberdeen to test suitability of gunacos to revitalise ailing British wool industry. The Times
1994
25 October - Mention of Bruce Wright running llama treks in Thetford Forest, Norfolk, £36 a time. The Times Newspaper
Camelid Vets Association formed
1995
27 January - Mention of llamas living at Alexandra Palace. Daily Telegraph.
1996
29 June - Mention of llamas as the new face of British Farming. Daily Telegraph.
2003
Llamas Constanza and Wolfgang appear in the radio soap -The Archers
2006
The British Llama Society incorporated 1 June. Founding directors were Donald Butler, Linda Johnson, Yvonne Parfitt, David Pryse and Paul Rose. (Companies House) Derived from the British Alpaca Herd Book and Register (incorporated 12 September 2003)
2009
Hillview Llamas started see here
2019
Defra agree that for contiguous testing only , the tuberculin injection (skin test ) used for the purpose of priming the llamas immune system prior to blood testing no longer has to be injected in his armpit .
© Copyright Hill View Llamas, Frodsham